The Gig Book
Not available at this moment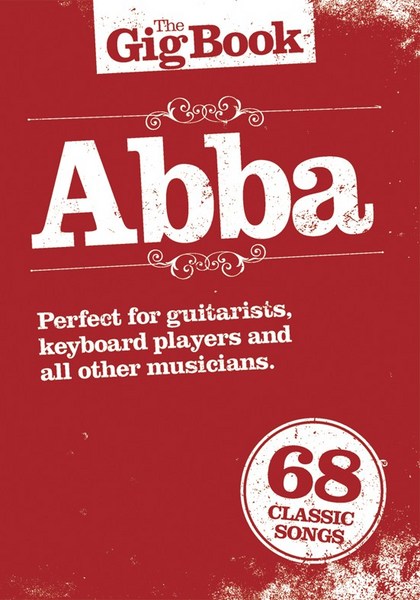 Artist: ABBA
Itemcode: CC559
description:
ABBA - The Gig Book

published 2012
224 pages
size: 21 x 14,8 cm
paperback

Featuring lyrics, chord boxes and melody line, text, as well as black and white photos, these handy books are an ideal size for stuffing in your gig bag.

Contains:
Andante, Andante , Angeleyes , Another Town, Another Train , As Good As New , Cassandra , Chiquitita , Dance (While The Music Still Goes On) , Dancing Queen , Does Your Mother Know , Eagle , Fernando , Gimme! Gimme! Gimme! (A Man After Midnight) , Gonna Sing You My Lovesong , Hasta Manana , Head Over Heels , Hey Hey Helen , Honey Honey , I Am The City , I Do, I Do, I Do, I Do, I Do , I Have A Dream , I Let The Music Speak , I Wonder (Departure) , If It Wasn't For The Nights , I'm A Marionette , I've Been Waiting For You , King Kong Song , Kisses Of Fire , Knowing Me Knowing You , Lay All Your Love On Me , Like An Angel Passing Through My Room , Lovelight , Lovers (Live A Little Longer) , Mamma Mia , Me And I , Money Money Money , Move On , My Love My Life , My Mama Said , Nina, Pretty Ballerina , On And On And On , One Man, One Woman , One Of Us , Our Last Summer , People Need Love , Ring Ring , Slipping Through My Fingers , So Long , Soldiers , S.O.S., Summer Night City , Super Trouper , Suzy-Hang-Around , Take A Chance On Me , Thank You For The Music , The Day Before You Came , The King Has Lost His Crown , The Name Of The Game , The Visitors , The Way Old Friends Do , The Winner Takes It All , Tiger , Under Attack , Voulez-vous , Waterloo , What About Livingstone , When All Is Said And Done , When I Kissed The Teacher , Why Did It Have To Be Me

To be released May 3rd. If your order includes this item, your order will be sent out in one shipment once this item becomes available.